Just in time for the Holidays... New La Pompe Attack Merch!
Get your official La Pompe Attack long sleeve tee shirt now!
Get your super high fidelity WAV file copy of "A Very Gypsy Christmas" HERE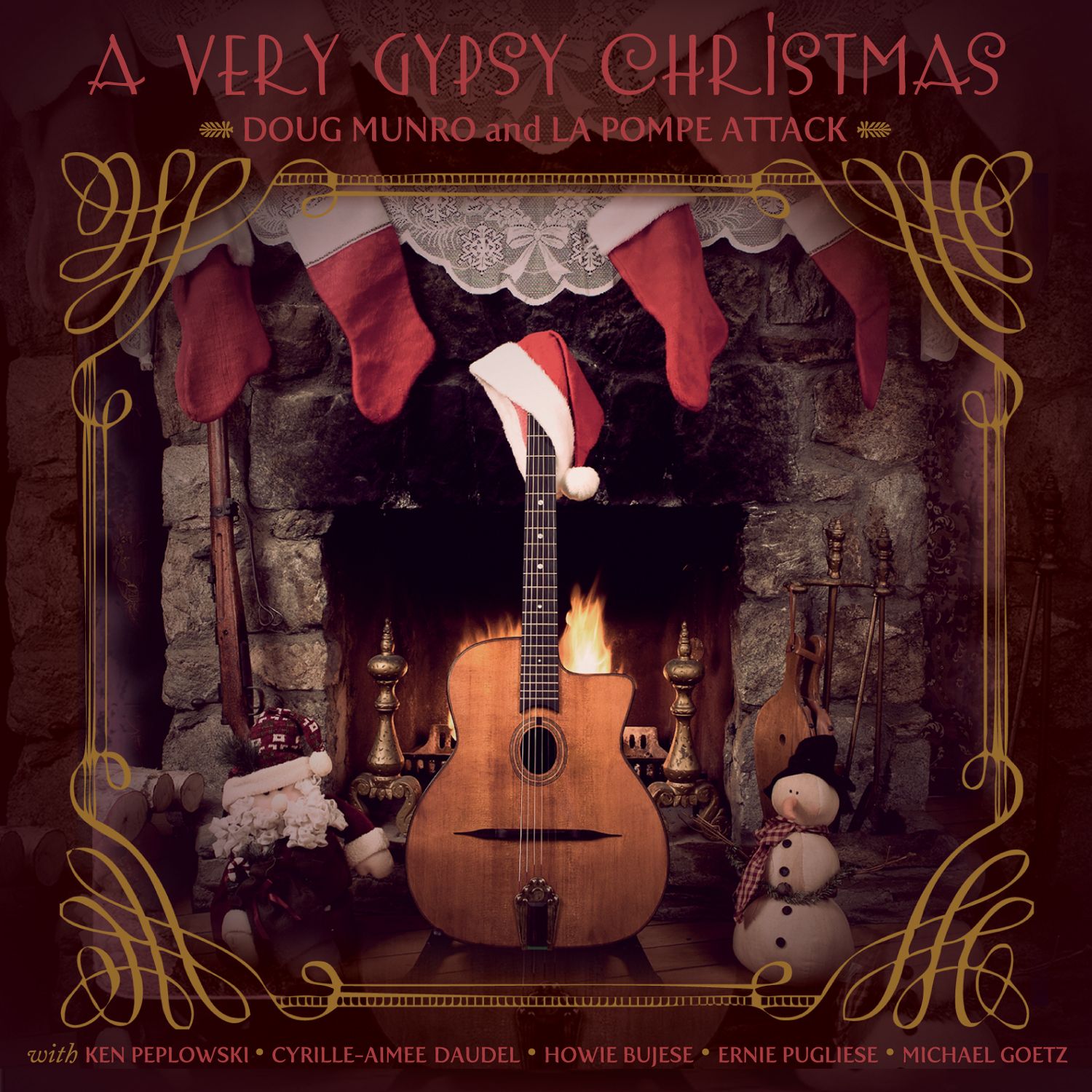 Every Wednesday I stream live on YouTube, Facebook, Twitter and Twitch. These live performances are solo guitar/vocal. Along with my Boss RC-20 looper I create what I call LOOP-MANIA! We have a very lively chat bar where folks are connecting with old friends and make new ones from around the world. I hope you'll join us!
If you would like to sponsor a live stream event please let me know. You can pick the musicians and the musical theme for the evening! Contact me here.
For Live bookings please contact Jacque Roche at jacque@wbutterfly.net
Don't forget to check out my subscription section!
Please check out and subscribe to my YouTube channel to view all my weekly postings.
I'm still making content for TrueFire.com. Here's a link for my courses on TrueFire. Here's link for my subscription service on TrueFire called Doug Munro's Guitar Garage
I have a Wikipedia page, click here to check it out.

Please be sure to visit the store page to see all of my product which is available in CD, Vinyl and downloadable .wav files. we also have awesome "La Pompe Attack" T-shirts and Beanies!
 
If you would like to help support my continued musical endeavors and content creation you can donate through PayPal or Venmo. Any amount is greatly appreciated!


Thanks again for your support and encouragement!

"Doug Munro has been around the music scene in NY for over 30 years. He is a fiercely independent musician who has forged his own sound on his own terms. Look at his resume and you will find a guitarist, composer, arranger, producer, author, educator of the highest caliber. Doug has worked with a who's who of biggest name's in the NYC music scene over the last three decades. Just when you think you've got him figured out he'll knock down what he's done and start building in a new direction. A true creative force, Doug Munro has always been more concerned with the music than with the music business. Now, how many people can you say that about?"        
         
I've been endorsing LaBella Strings for over 20 years, they're great! 

  Check out the LaBella website here.

I'm also a proud endorser of Godin guitars. The Godin Multiac Nylon is my go-to nylon string guitar! Watch me play it here. Check out the Godin website here.

I'm offering some guitar instruction courses through TrueFire.com. You can learn all about it and order it directly from my store page! 
BTW I created/maintain this website using Bandzoogle. I highly recommend it!